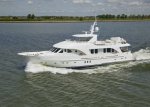 09/2010 - One of the "Must" of next Cannes and Monaco Boat Shows, the
Moonen 97 Livia
is the third ship of the serie. Her superb displacement hull, as always signed René van der Velden and Diana Yacht Design, is based on the
Moonen 84
(
read also our article Moonen 84 Contemporary style
), fetish model of the dutch shipyard. The "one more room" concept is pushed to the extreme. Thanks to the remarkable work of Art-Line Interiors, we arrive at 5 cabins including three doubles … a feat! A fourth jewel, carved in the same mold, will be launched in 2011. "With this new
Moonen 97 Livia
, we have once again managed a remarkable exercise in style," says the shipyard. Coming behind
Darsea
the first 97 feet of the serie, a finalist for a price of super-prestigious yacht, was a challenge. So much that the Technical Specifications of both yachts are almost the same. The draft is certainly a little higher (2.20 against 2.18 m), cruising speed up to 10 knots true instead of 9, autonomy is certainly higher (4500 instead of 4000 nM ), the rest does not change. The length is 30 meters sharp, the weight is 185 tons and the engine is a pair of Caterpillar of 650 hp each. And the noise and vibration? Moonen has solved this recurring problem met on steel and aluminum boats. A comprehensive program of mitigation of noise pollution was carried out to overcome these inconveniences. The walls of
Livia
incorporate the best of acoustic insulation in order to keep 50% extra space between the ends of the propeller blades and the bridge. At anchor, too, the yacht is a joy thanks to the "zero speed" stabilizers ..
An exclusive style
Same as the one of
Darsea
, the hull of the
Moonen 97 Livia
is clean and sleek, very characteristic, with its flared front and double staircase overlooking the bathing platform at the rear. It is the interior that mainly changes. The yacht style is mixing the charm of a New England house and an Amercian seaside villa. Program: tanning, swimming, outdoor dining, maybe a little fishing and rest, still rest. "The owners were so happy at the launching of
Livia
that they wished to share their happiness, of course with exclusive circle of guests," confirms the shipyard. It was therefore natural to expose this unit at boat shows such as Cannes and Monaco, centers of the nautical jet-set. Up to now, nothing has been decided regarding the charter. We only know that the boat will be exclusively available in Europe. To be continued…
The capacity of a globe-trotter
Beneath its false air of "pocket super-yacht", the
Moonen 97 Livia
is a true cruiser. Her steel hull is in category A, or "high seas", and it is perfect for long journeys. The fuel tank is exceptional, with its almost 28,000 liters, providing the boat a transatlantic range. The superstructure is aluminum. Resistant, light and timeless, it hosts a huge sun deck. It features a panoramic living room covered with bar, beautiful U-sofa and location for two tenders. The saloon below is extremely spacious and the yard has made a big effort to make life aboard comfortable and chic. For example, the master stateroom is equipped with a generous dressing. In addition, all rooms, including VIP, are with an en suite bathroom. There's no doubt:
Livia
takes the path of
Darsea
or
Moonen 84
, the best-seller of the shipyard.
See NauticNews Photo Gallery of Moonen 97 Livia
NauticNews.comTech Specs of Moonen 97 Livia
The range of Moonen Shipyard on NauticNews
Tags :
Moonen
-
René van der Velden
-
Diana Yacht Design
-
Art-Line Interiors
-
Moonen 84
-
Moonen 97 Darsea
-
Festival de la Plaisance de Cannes
-
Monaco
Photo Credit : Moonen Shipyards bv -KL-
Share/Bookmark